p-ISSN:2086-2636
e-ISSN:2356-4644
Journal of Islamic Architecture (JIA) is a scientific publication for widespread research and criticism topics in Islamic architecture studies. JIA is published twice a year in June and December since June 2010 by International Center for Islamic Architecture from the Sunnah (CIAS), Department of Architecture Universitas Islam Negeri Maulana Malik Ibrahim Malang, Indonesia. One volume of JIA is published in two-year calendar.
JIA has been accredited by the Ministry of Research, Technology, and Higher Education of the Republic Indonesia as an academic journal (SK: 36b/E/KPT/2016) since May 25 2016. 
The papers received by this journal will be reviewed by some expert of Islamic Architecture from several universities in different countries. JIA publishes articles that cover textual and fieldwork studies in various perspectives of Islamic Architecture including:
Architectural design
Mosque architecture
Art and culture
Architectural history
Architectural theory and criticsm
Environmental architecture
Urban Design
Landscape
and many more related to islamic architecture
Please Click Archives to read the Journal content.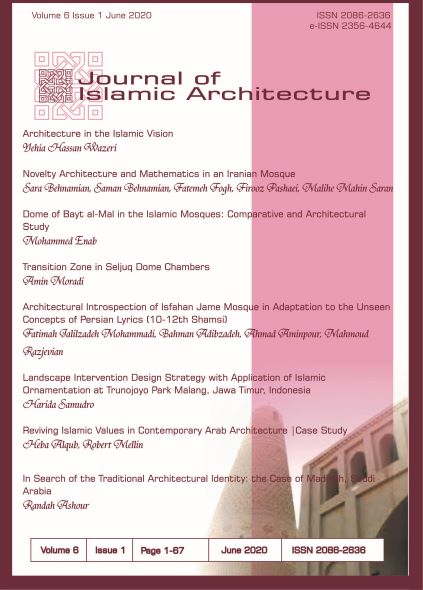 Announcements
No announcements have been published.
Vol 5, No 1 (2018): Journal of Islamic Architecture
Table of Contents
Articles
| | | |
| --- | --- | --- |
| | Mehmet Sener, Neslihan Türkmenoğlu Bayraktar | 1-8 |
| | | |
| --- | --- | --- |
| | Hamza Babangida, Halima Sani Katsina | 9-19 |
| | | |
| --- | --- | --- |
| | Eka Rahmat Hidayat, Hasim Danuri, Yanuar Purwanto | 20-26 |
| | | |
| --- | --- | --- |
| | Ilya Fadjar Maharika | 36-44 |
| | | |
| --- | --- | --- |
| | Yulia Eka Putrie, Widjaja Martokusumo, Bambang Setia Budi | 45-52 |