CAUCHY - Jurnal Matematika Murni dan Aplikasi
p-ISSN: 2086-0382 | e-ISSN: 2477-3344

CAUCHY is a mathematical journal published twice a year in May and November by the Mathematics Department, Faculty of Science and Technology, Universitas Islam Negeri Maulana Malik Ibrahim Malang

We welcome authors for original articles (research), review articles, interesting case reports, special articles illustrations that focus on the Pure and Applied Mathematics.
Subjects suitable for publication include, but are not limited to, the following fields of:
Fuzzy Systems and its Applications
Geometry Theories and its Applications
Graph Theories and its Applications
Real Analysis and its Applications 
Operation Research and its Applications
Statistical Theories and its Applications
Dinamical Systems and its Applications
Mathematics Modeling and its Applications
Discrete Mathematics and its Applications
Computer Mathematics and its Applications
Mathematics Actuaria and its Applications
Our journal is indexed on DOAJ; Indonesian Scientific Journal Database (ISJD); WorldCat; OneSearch; Google Scholar.

Starting from Vol. 4 No. 2 (2016) Cauchy use a new layout template

Registration and article submission guidelines can be downloaded here. (Panduan pendaftaran dan pengiriman artikel dapat didownload di sini.)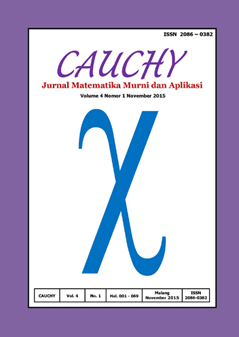 Profile of CAUCHY Journal in Google Scholar (Google Portal):
Total Citations in Google Scholar: 6
Total Articles in Google Scholar: 31
h-index: 1
i10-index: 0
Total Impact Factor Google Scholar: 6/31 = 0.194
Profile of Cauchy Journal in Infobase Index (IBI):
INDEXING AND ABSTRACTING
CAUCHY - JURNAL MATEMATIKA MURNI DAN APLIKASI has been covered by the following services:
Announcements
CALL FOR PAPER EDITION NOPEMBER 2017

Dear all Under/Postgraduate Students and Academic Scholars of Mathematics who have deep concern and awareness of the development of Mathematics. We gladly invite you to submit your scientific writings in widespread themes of Mathematics to our "CAUCHY".

The online submission is at:

http://ejournal.uin-malang.ac.id/index.php/Math

The author guidelines and paper template are available on the website. The submitted article should not be previously published or currently under consideration of other publication.

Posted: 2016-06-15
More...
Vol 4, No 4 (2017): CAUCHY
Available Online Since May 2017
Table of Contents
Articles
| | | |
| --- | --- | --- |
| | Dahliatul Hasanah | 138-145 |
| | | |
| --- | --- | --- |
| | Ika Hesti Agustin, Dafik Dafik, Siti Latifah, Rafiantika Megahnia Prihandini | 146-154 |
| | | |
| --- | --- | --- |
| | I Kadek Yama Rinaldi | 155-160 |
| | | |
| --- | --- | --- |
| | Fery Firmansah, Muhammad Ridlo Yuwono | 161-166 |
| | | |
| --- | --- | --- |
| | Abdussakir Abdussakir, Rivatul Ridho Elvierayani, Muflihatun Nafisah | 176-182 |