CAUCHY

is a

mathematical journal

published

twice a year

in May

and

November

by

the Mathematics

 Department, F

aculty of

Science

and

T

echnology,

Maulana Malik Ibrahim State Islamic University of Malang

.

J

ournal

includes

research papers

,

literature studies

,

analysis

,

and problem solving

in Mathematics

(

Algebra

,

Analysis

,

Statistics

,

Computing

and

Applied

)

Starting from Vol. 4 No. 2 Tahun 2016 Cauchy use a new layout template

Registration and article submission guidelines can be downloaded here. (Panduan pendaftaran dan pengiriman artikel dapat didownload di sini.)
- ISSN : 2086-0382 (print)
- ISSN : 2477-3344 (online)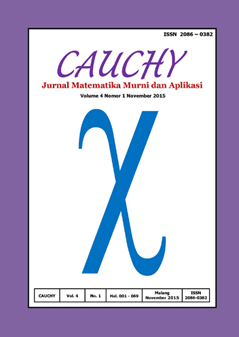 Profile of CAUCHY Journal in Google Scholar (Google Portal):
Total Citations in Google Scholar: 5
Total Articles in Google Scholar: 31
h-index: 1
i10-index: 0
Total Impact Factor Google Scholar: 5/31 = 0.161
Profile of Cauchy Journal in Infobase Index (IBI):
Page Rank - Checker
INDEXING AND ABSTRACTING
CAUCHY - JURNAL MATEMATIKA MURNI DAN APLIKASI has been covered by the following services:
Announcements
CALL FOR PAPER EDITION NOVEMBER 2016

Dear all Under/Postgraduate Students and Academic Scholars of Mathematics who have deep concern and awareness of the development of Mathematics, We gladly invite you to submit your scientific writings in widespread themes of Mathematics to our "CAUCHY".

Online submission at:

http://ejournal.uin-malang.ac.id/index.php/Math

Or email to cauchy@uin-malang.ac.id / jo_alkanderi57@yahoo.co.id

The author guidelines and paper template are available on the website. Article submitted should not have been previously published or be currently under consideration for publication any place else

Posted: 2016-06-15
More...
Vol 4, No 2 (2016): CAUCHY
Available Online Since Mei 2016
Table of Contents
Articles
| | | |
| --- | --- | --- |
| | Agus Dwi Sulistyono, Waego Hadi Nugroho, Rahma Fitriani, Atiek Iriani | 74-80 |
| | | |
| --- | --- | --- |
| | Angga Dwi Mulyanto, Solimun Solimun, Ni Wayan Surya Wardhani, Suharno Suharno | 81-85 |
| | | |
| --- | --- | --- |
| | Dewi Kurnia Sari, Ni Wayan Surya Wardhani, Suci Astutik | 86-94 |
| | | |
| --- | --- | --- |
| | Muhammad Hajarul Aswad, Wahyuni Husain | 95-99 |
| | | |
| --- | --- | --- |
| | Erny Octafiatiningsih, Imam Sujarwo | 100-106 |