---
Journal title

: International Journal on Teaching and Learning Mathematics

Initials

: IJTLM

Email

: ijtlm@uin-malang.ac.id

Frequency

: 2 issues per year (June and December)

DOI

: prefix

10.18860 

by  


Print ISSN

:

2621-2188

Online ISSN

: 

2621-2196

Editor-in-chief

: Abdussakir

Managing Editor

: Imam Rofiki

Publisher

:

Universitas Islam Negeri Maulana Malik Ibrahim Malang

Citation Analysis

: Google Scholar, 

Crossref, Dimensions, BASE, Moraref
---
Journal Summary:

International Journal on Teaching and Learning Mathematics (IJTLM) is an international and peer-reviewed open access journal covering research in mathematics education. It includes studies of teaching and learning process, development research, thinking process, problem-solving, understanding, proving, reasoning, ethnomathematics, communication, and educational technology. It is published twice a year in June and December. It contains scientific articles written in English.




Indexing and Tools:

 

Google Scholar, Crossref, ISJD, IPI, BASE, Moraref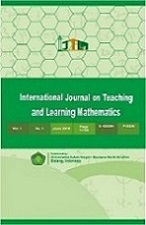 Instructions for Authors:

Authors should submit only papers that have been carefully proofread and polished. The authors are to assure that the manuscript presents the outcomes of research works (original article) which is not yet published in other journals/conferences. Before submission please make sure that your paper is prepared using our template for writing format and style (Please download and use as the MANUSCRIPT TEMPLATE for initial manuscript submission). This will ensure fast processing and publication. Any papers not fulfilling the requirements based on AUTHOR GUIDELINES and REVIEW GUIDELINES will not be processed/ Rejected by the editors before further reviewed.

We strongly prefer to receive manuscripts via our ONLINE SUBMISSIONS system. Using this system, authors can upload manuscript files (text, figures and supplementary information, including video) directly to our office and check on the status of their manuscripts during the review process. First, kindly please register as the author follow these REGISTRATION INSTRUCTIONS, and then you should login to submit your papers. Please don´t forget tick author when you make a registration. Registration and login are required to submit items online and to check the status of current submissions.

If you have any problems with the online submission, please do email to ijtlm@uin-malang.ac.id (subject: Your Name_Problem with Online Submission) and cc: imam.rofiki@uin-malang.ac.id.
---
Announcements
No announcements have been published.