JETLe was established in 2019 by Tadris Bahasa Inggris (English Education Department) of Teacher Training and Education Faculty of State Islamic University of Maulana Malik Ibrahim Malang. It is regularly issued twice a year on OCtober and March
The journal welcomes articles from Indonesia and from other nations where English language and literature are part of the school and Higher Education curriculum . This journal seeks to share the knowledge and expertise of English teachers, researchers, practitioners, advisers and consultants who are engaged in English throughout the world. 
The Journal invites the submission of papers which report on dynamic and interactive pedagogies and which interrogate contemporary responses to the changing nature of communication in all its forms, including drama, digital and media literacy, as well as all aspects of both language and literature. 
Journal Title : JETLe Journal of English Language Teaching and Learning
Initials         : JETLe
Email           : jetle@uin-malang.ac.id
Frequency    : October and April
DOI              :On Process
ISSN            : On Process
ISBN            : On Process
Editor in Chief :Ima Mutholliatil Badriyah
Publisher Rumah Jurnal FITK UIN Maulana Malik Ibrahim Malang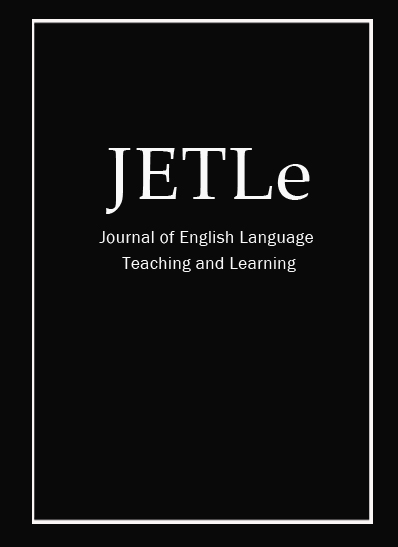 Announcements
No announcements have been published.