e-ISSN: 2550-0074

Journal of Islamic Medicine is a medical journal published twice a year in March and September by the School of Medicine, Faculty of Medicine and Medical Sciences, Universitas Islam Negeri Maulana Malik Ibrahim Malang.
Journal of Islamic Medicine is a peer-reviewed and open access journal that focuses on promoting medical sciences generated from basic sciences, clinical, and community or public health research to integrate researches in all aspects of human health. This journal publishes original articles, reviews, and also interesting case reports. Brief communications containing short features of medicine, latest developments in diagnostic procedures, treatment, or other health issues that is important for the development of health care system are also acceptable. Letters and commentaries of our published articles are welcome.
Subjects suitable for publication include, but are not limited to the following fields of:
Allergy and immunology
Anesthesiology
Cancer and stem cells
Cardiovascular
Cell and molecular biology
Child health
Community medicine
Dermato-venereology
Geriatrics
Histopathology
Hospital Management
Internal medicine
Neuro-psychiatric medicine
Ophthalmology
Oral medicine
Otorhynolaryngology
Physical medicine and rehabilitation
Physio-pharmacology
Public health
Pulmonology
Radiology
Surgery including orthopedic and urology
Travel medicine
Women's health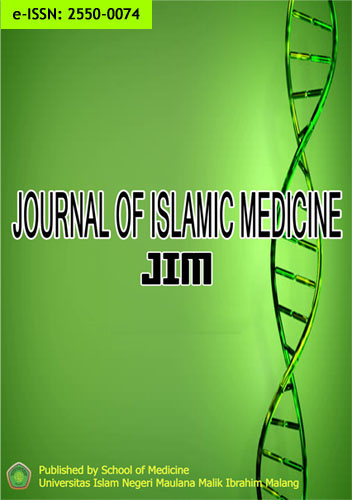 Announcements
No announcements have been published.
Vol 2, No 2 (2018): JOURNAL OF ISLAMIC MEDICINE
Table of Contents
Articles
| | | |
| --- | --- | --- |
| | Fany Lairin Djala, Dwi Yut Tahulending | 1-7 |
| | | |
| --- | --- | --- |
| | Riskiyah - riskiyah | 14-25 |
| | | |
| --- | --- | --- |
| | Ermin Rachmawati, Risma Aprinda Kristanti, Nurlaili Susanti | 26-32 |
| | | |
| --- | --- | --- |
| | Risma Aprinda Kristanti | 33-43 |
| | | |
| --- | --- | --- |
| | Avin Ainur Fitrianingsih, Lailia Nur Rachma, Alvi Milliana | 44-53 |