e-ISSN: 2460-7207 | p-ISSN: 2086-0064
Jurnal el-Hayah (journal of biology) is an open access journal published by Department of Biology, State Islamic University of Malang, Indonesia. it publishes peer-reviewed research and review articles of special importance and broad interest in any area of biology, as well as covers the special topic on the relationship between science and religion. This jounal is published twice (March and September) every year and it was indexed by several several reputable indexing services such as: google scholar, Crossreef (DOI), Directory of Open Access Jounals (DOAJ), Morareef, IPI Portal Garuda, Indonesian scintific journal database (ISDJ) etc. Starting from the next edition (March, 2016), all papers published in Jurnal el-Hayah must be written in English. Authors are encouraged to submit the unpublished and original works to this journals. 
URL address of Jurnal el-Hayah:
http://ejournal.uin-malang.ac.id/index.php/bio/index
.
Please click Archives to see the sample content of this journal.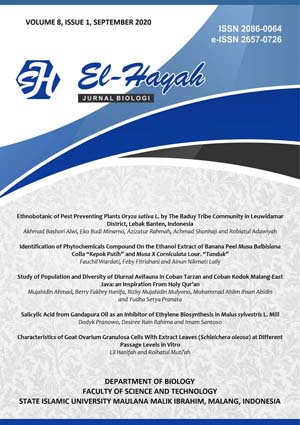 Announcements
No announcements have been published.
Vol 6, No 3 (2017): EL-HAYAH (VOL 6, NO 3,September 2017)
Table of Contents
Articles
| | | |
| --- | --- | --- |
| | Bayyinatul Muchtaromah, Mujahidin Ahmad, M. Nur Hasan, Didik Wahyudi | 70-78 |
| | | |
| --- | --- | --- |
| | Nasrullah Bai Arifin, Muhammad Fakhri, Ating Yuniarti, Anik Martinah Hariati | 79-85 |
| | | |
| --- | --- | --- |
| | Ita Yustina, Farid R. Abadi | 86-95 |
| | | |
| --- | --- | --- |
| | Dwi Suheriyanto, Mariatul Qiptiyah, Bayu Agung Prahardika | 96-103 |