De Jure: Jurnal Hukum dan Syar'iah was formerly a potpourri of articles in the field of law and Islamic law. It published bi-annually, in June and December . De Jure: Jurnal Hukum dan Syar'iah is a medium of academic publication and communication for experts and researchers, especially manuscript that discuss about family law, business law, criminal law, cyber law, administrative law, constitutional law, dispute resolution, and other law issues.  De Jure has been accredited (SINTA2) by The Ministry of Research Tecnology  and Higher Education of the Republic of Indonesia (SK Dirjen Penguatan Riset dan Pengembangan Kementerian Riset, Teknologi, dan Pendidikan Tinggi No. 30/E/KPT/2019).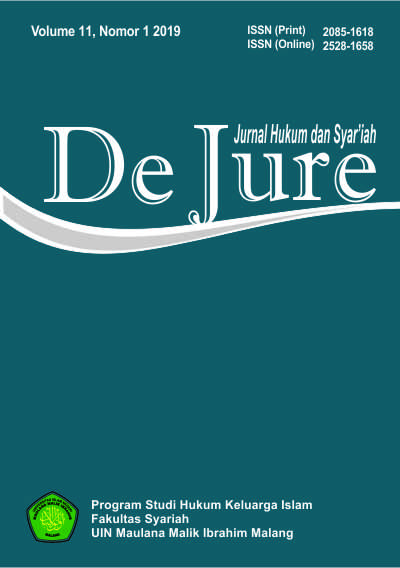 Announcements
Call For Paper

De Jure: Jurnal Hukum dan Syar'iah Shariah Faculty UIN Maulana  Malik Ibrahim Malang invite auhtors to publish their paper Journal for Vol.14 Issue 2, 2022.

Deadline for submitting manuscripts is October 1, 2022

. Articles must be written in good English and free from plagiarism and data fabrication.


Posted: 2022-07-27
More...
Vol 14, No 1 (2022)
Table of Contents
ARTICLE
| | | |
| --- | --- | --- |
| | Agustin Hanapi, Imanuddin Imanuddin, Khairuddin Hasballah | 21-37 |
| | | |
| --- | --- | --- |
| | Sudirman Sudirman, Irwan Abdullah, Saifuddin Zuhri Qudsy, Fakhruddin Fakhruddin, Syabbul Bachri | 92-110 |
| | | |
| --- | --- | --- |
| | Muhammad Aziz, Maftuh Maftuh, Bayu Mujrimin, Moh. Agus Sifa', Sandro Wahyu Permadi | 111-124 |
| | | |
| --- | --- | --- |
| | Ermanto Fahamsyah, Vicko Taniady, Kania Venisa Rachim, Novi Wahyu Riwayanti | 140-159 |